Gelish Instructional DVD By Gelish


The complete guide to all Gelish Mini products. You will learn how to apply Gelish Mimi product , processing time and the products needed to apply this amazing gel system.
Gelish Foundation Base Gel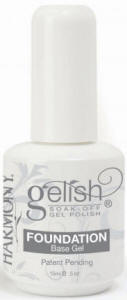 Gelish Foundation Base Gel creates the adhesive bond between the nail plate and gel products. This product secures adhesion while not damaging the natural nail plate. FOUNDATION will work with Hand & Nail Harmony Gelish products as a base for Gelish STRUCTURE or Gelish Soak Off Gel Polish. Gelish FOUNDATION cures in 10 seconds in a LED Light or 30 seconds in an UV Light.
Gelish mini-light – Gelish Mini Light By Gelish

Dries nails completely
Cures Mini Foundation in 1 Minute
Cures mini Gelish Colors in 2 – 3 minutes
Cures mini Top It Off in 2 minutes
Great for touch-ups or travel
Requires four AA batteries (not included)
Available AC Power Cord & Adapter (sold separately)
Gelish Mini UV Light AC Power Cord & Adapter –

For use with Gelish Mini UV Light – 110V
Gelish Artificial Nail Remover


Removes Gelish Soak Off Gel Polish and acrylic nails. Conditions skin. Prevents drying of skin. Softens gel for easy removal.