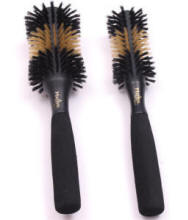 The Marilyn Brush Tuxedo Round Hair Brush adds volume and body to hair with 100% natural boar bristles.
The Marilyn Tuxedo Round Brush's Unique hourglass shape in the barrel and in the bristling area adapts perfectly to the shape of the head, allowing much more contact, maximum control and greater volume.
Beautiful combination alternating black and blond boar bristles are coated with ceramic. Foam handle. Enlarged neck in the handle so the hair won't get caught in the union of the wood and the foam.