Poshe AHA Cuticle Care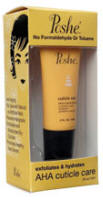 Poshe AHA Cuticle Care – Promotes Healthy, Smooth, Beautiful Cuticles. Poshe AHA Cuticle Care contains a unique blend of (AHA) Alpha Hydroxy Acids & botanicals specially formulated to exfoliate and hydrate problem cuticles and surrounding tissues. Poshe AHA Cuticle Care contains Alpha Hydroxy Acids & Botanicals 7% AHA Both types – Glycolic & Stearic acids.
Poshe AHA Cuticle Care also:
Accelerates The Natural Exfoliation
Hydrates & Moisturizes Cuticles
Contains Antioxidants
To Promote Natural Healing
Prevents Hangnails
Light, Water-based Formulation For Faster Absorption
Won't Cause Lifting
Won't Dull Polish Shine
Visible results within 1 week, with daily use
Allow Poshe AHA Cuticle Care Cream To Be Absorbed In For The Development Of Smooth, Healthy, Beautiful Cuticles.
Poshe Base Coat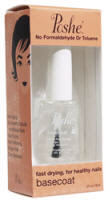 Poshe Base Coat maintains The Beauty Of Your Manicure.
Poshe Base Coat is fast drying
For Natural & Artificial Nails
Protects nails from damage & staining
Eliminates chipping and peeling
No Formaldehyde
No Toluene
Ridgefiller
Poshe Base Coat holds Polish On Better
Poshe Base Coat holds Polish On Longer
Maintains the pH Of The Nail l
Clear – Nail Tech's choice for French or American Manicures
Non – Yellowing
Great For Pedicures
Helpful Hint:
For extra long wearing polish; start with clean dry nails, apply Poshe Fast Drying Base Coat, 2 coats of color, Poshe Fast Drying Base Coat (yes, again), and finish with Poshe Super Fast Drying Top Coat. It will wear like iron!
Poshe Top Coat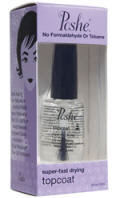 Poshe Topcoat is the next Generation Topcoat! Poshe Topcoat dries manicure completely in 5 to 6 minutes!
Dries To The Touch in 1 Minute e
Dries To The Nail in 5 Minutes
Highest Gloss Of Any Product On The Market
No Formaldehyde
No Toluene
No Nitrocellulose
Cannot turn yellow, even in tanning beds.
2 UV Inhibitors – 2 U.S. Patents
Chip Resistant, Protects Nails
Self-Leveling
Non-Dragging
Poshe Topcoat is ideal For Nail Art
No UV Lights or Heated Dryers Needed
A True Topcoat – Must be applied over polish or basecoat
Poshe Topcoat – 5 Time Winner Allure Magazine's BEST TOPCOAT AWARD
Poshe Treatment Basecoat
Strengthens nails without dehydrating formaldehyde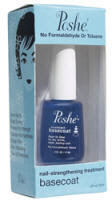 Poshe Treatment Base Coat eliminates chipping & peeling polish
Poshe Treatment Base Coat fortifies nails with protein & calcium
Balances moisture with ProVitamin B5 for flexible, break resistant nails
For layering, peeling, soft, dry or brittle nails s
Poshe Anti-Microbial BaseCoat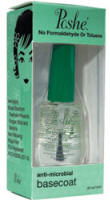 Poshe Anti-Microbial BaseCoat – A Unique, Effective Anti-Microbial Treatment That Won't Wash Off! Used to treat & prevent fungus, mold & bacteria.
Poshe Anti-Microbial BaseCoat provides broad spectrum protection with a long wearing treatment. Protects the nail plate with a long-lasting zone of inhibition. Poshe Anti-Microbial BaseCoat contains germ killing Triclosan. Safe * Stable * Long Shelf Life * Non-Toxic. No Formaldehyde. No Toluene. For use on Natural or Artifical Nails.
Manufactured in a FDA (Food & Drug Administration) certified facility. National Drug Code specifically assigned by the FDA NDC #60609-207-05. Without a National Drug Code, the competition cannot even claim to be effective!
Directions: Apply two coats of Poshe Anti-Microbial BaseCoat to clean, dry nails. Reapply one to two times per week for optimal effectiveness (may be used over color). Remove with polish remover and reapply every seven days. Continue usage until affected area has completely grown out.
Poshe Polish Reviver
Polish Thinner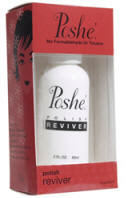 Thins thickened polish
Works in any brand of polish
Makes other brands dry faster & shinier, too!