AminoGenesis:
Therapeutic Facial Repair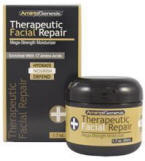 Aminogenesis Therapeutic Facial Repair Formula – the most concentrated version of the AminoGenesis formula. Three times the concentration of amino acids give you moisturizing and nourishing power not available in any other formula in the world.
Instead of simply covering and sealing the skin like a typical moisturizer, the Aminogenesis Therapeutic Facial Repair formula penetrates rapidly to directly hydrate and nourish the skin with 17 different amino acids. Nine of these are known as essential, meaning the body cannot produce them and must be acquired from outside the body.
Use Aminogenesis Therapeutic Facial Repair morning and evening after cleansing for more beautiful, radiant and trouble free skin starting the first time you use it! (No need for exfoliates or toners!) Whether you are looking to maintain youthful looking skin or want to combat the signs of aging, Aminogenesis Therapeutic Facial Repair should be part of your day. Makeup or sunscreen may be applied over the top.
Usage: As an everyday moisturizer. Apply Aminogenesis Therapeutic Facial Repair morning and evening to the face, neck and chest areas to deeply hydrate and nourish the skin. Superior anti-aging, anti-wrinkle properties.. Cleanse at night before using with Aminogenesis Really, Really Clean and wake up with softer, radiant and more youthful looking skin!
AminoGenesis Cocoon:
Full-Body Therapeutic Moisturizing and Skin Repair Formula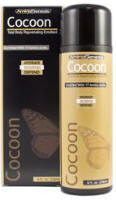 Aminogenesis Cocoon is the same effective formula as Aminogenesis Facial Repair, but made in a lower potency for use over the entire body. Smooth Aminogenesis Cocoon on legs, hands and body for the silkiest feeling skin ever. Dry, flaky, itchy legs, hands, arms and feet can be a thing of the past!
AminoGenesis Cocoon Total Body Emollient is the original version of our powerful amino acid formula. Using newly pioneered techniques invented by the AminoGenesis science team, 17 plant-derived amino acids have been painstakingly purified then blended in a process known as low energy emulsion technology. For the first time ever this enabled life giving free form amino acids to be assembled into a stable cohesive, non-greasy formula that would remain stable and not break down or separate over time.
AminoGenesis Cocoon is a rapidly penetrating lotion that dissipates into the skin immediately to directly hydrate and nourish the skin all over your body.
Usage: Smooth AminoGenesis Cocoon on legs, hands and body for the silkiest feeling skin ever. Apply AminoGenesis Cocoon often directly to trouble areas for problems like psoriasis, dermatitis, or eczema. The rich amino acids go to work immediately helping transform your skin right before your eyes!
AminoGenesis Counter Clockwise:
Under Eye Treatment

Aminogenesis Counter Clockwise is a special gel/cream hybrid. Using the powerful Aminogenesis formula, other important ingredients were blended specifically for the delicate skin around the eyes. With the concentration of a cream, yet the water carrying abilities of a gel, Aminogenesis Counter Clockwise delivers moisture, nutrients and amino acids where they are needed most. Win the battle against age and the elements. Turn back the hands of time with Aminogenesis Counter Clockwise.
Aminogenesis Gone In 60 Seconds:
Intense Wrinkle Eraser

Aminogenesis Gone In 60 Seconds – Give us 15 seconds and we will give you 15 years! Aminogenesis Gone In 60 Seconds is a powerful formula that activates on contact to visibly erase fine lines and deep wrinkles in just seconds! So, why put yourself through the expense and hazards of botulinium injections for short term results? Aminogenesis Gone In 60 Seconds is a scientific blend of oxygenating peptides, micro-collagen and firming proteins tightens, firms and reduces puffiness all day long. It's like having a temporary face-lift in a bottle
AminoGenesis Perfect Reflection:
Advanced Anti-Aging Serum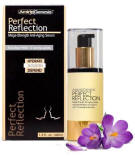 Aminogenesis Perfect Reflection is the most advanced anti-aging serum available anywhere! No other company has been able to combine 4 powerful anti-oxidants (vitamin A, C, D and CoQ10) with17 plant derived amino acids. The amazing Aminogenesis water based formula of Aminogenesis Perfect Reflection penetrates the skin rapidly delivering moisture and skin rejuvenating nutrients for the most beautiful, youthful and healthy skin possible!
Vitamin A: Improves skin elasticity, texture, firmness and smoothness.
Vitamin C: Protects collagen from oxidation, reduces dark spots, helps the skin remain soft and supple.
Vitamin D: Helps improve skin feel and texture and it's an important factor in epidermal cell turnover.
CoQ10: This element is the spark that helps cells create energy and helps preserve vitamin E.
AminoGenesis Photolagen:
Intensive Treatment for Sun Damage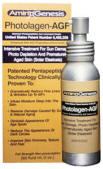 Aminogenesis Photolagen is the most powerful new serum ever created to fight and repair the effects of sun damage and the photo aging process. Aminogenesis Photolagen penetrates the surface of the skin delivering moisture, amino acids and peptides to nourish and begin to repair sun damage and help reverse the photo aging process. Aminogenesis Photolagen combines two amazing technologies. First, Photolagen contains the proprietary Aminogenesis amino acid skin rejuvenating technology. Next, cutting edge sun damage repairing patented peptides were added to create a formula unlike anything else in the world. Aminogenesis Photolagen has been tested by the American health care system for over a decade for it's amazing properties at helping beautify and rehabilitate the skin. In fact the chemist involved won the highest award in his field for the technology used to create Aminogenesis Photolagen. Effective on dry, oily or combination skin of all types and colors.
AminoGenesis Really, Really Clean:
Advanced Facial Cleanser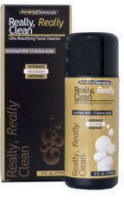 Aminogenesis Really Clean – You don't have to ruin your skin to cleanse it! Most cleansers simply strip the skin using very harsh chemicals. These sorts of cleansers can dehydrate your skin as well as upsetting the delicate balance of the natural moisturizing factor (NMF) while damaging the surface. A clean complexion is important, however there is no need to treat it so harshly. That's why AminoGenesis has created Really, Really Clean. Amazing dual purpose technology bathes the skin with life giving amino acids, while deeply cleansing. Imbedded dirt, makeup and other impurities are no match for the gentle power of AminoGenesis Really, Really Clean! As you cleanse, 17 amino acids go to work on contact, enhancing and beautifying your skin with vital nutrients. Really, Really Clean leaves your skin soft smooth, glowing and squeaky clean.
Usage: Morning and evening to deeply cleanse and prepare the skin for other AminoGenesis products. Excellent as a total body wash. Also, perfect for use as a shaving gel to help prevent razor bumps and burn. (A favorite with men!)
AminoGenesis Tripeptinon:
Nightly Facial Lift Capsules

Aminogenesis Tripeptinon Nightly Facial Lift Capsules – Alleviate severe signs of aging with technology designed to target, lift and firm the corrective tissues of the face and neck.
Deep within the skin, Aminogenesis Tripeptinon undergoes hydrolysis fatty acids and creating a structure to trap moisture. Amino peptides then bind with water in the skin for high-level moisture retention.